Torque converters that are designed for high performance street cars that use a lock‐up style transmission. Lock‐up is a term used for a transmission and torque converter that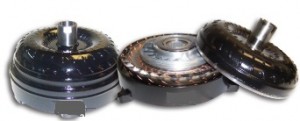 contains a friction clutch inside the converter to provide complete engagement (lock‐up) of the converter to engine coupling reducing engine RPM during cruising speeds. The lock‐up clutch is usually applied by electronic external controls such as the cars ECM or commonly known as the computer. See your transmission type for details.
Check out some of the features of a Midwest Lock Up Series converter and order yours today!
Contains lock-up clutch
Street/Strip Application for any engine up to 600hp
Pressure Tested and Computer Balanced
                            Call 815-229-9808