Meant for anyone that owns a RV or a vehicle that tows. Midwest RV Series torque converters have been modified to provide more stall speed for help in initial acceleration without sacrificing normal highway operation. These performance converters will increase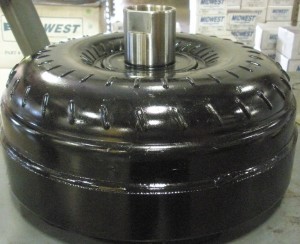 gas mileage, improve power and torque at low RPM, lowers transmission temperature and increases transmission life. Our RV performance converters keep going long after others have failed. For optimal performance, we recommend Midco RV lubricants.
Check out some of the features of a Midwest RV Series converter and order yours today!
Kevlar and Carbon clutches
Hardened inner sprags/splines
Anti-Ballooning plates
Needle bearings
Pressure tested and computer balanced
Midwest Converters Update
Midwest has issued an update to simplify ordering for their popular Diesel E4OD, 4R100, and 5R110 torque converters
They are listed as the 4 available stages of production.
Stage 1. F59 PS
Rebuilt to OEM standards with a rebuilt clutch assembly.
Stage 2  F59 PS HD
Rebuilt to OEM standards plus furnace brazed, Harden input spline, new LUK clutch assembly and HD Torrington bearings.
Stage 3  F59 PS HDB
Same as stage 2 plus added benefits of a new 1-piece billet steel front cover with harden studs.
Stage 4  F59 PS HDMDC (Heavy Duty Multi-disc Billet Custom.)
Same as Stage 3 plus converter has a HD flanged impeller hub to prevent hub cracking and impeller ballooning, and a new multi-disk clutch design, modified stator, harden sprag race and custom stall speed modifications. Additional welded impeller and turbine fin re-enforcements are included.
Please note all Midwest Ford Powerstroke converters have 6 mounting studs unless special ordered with 4 or 8 optionally.
For more info or assistance call
Midwest Converters                                                               Call 815-229-9808